The Story of the Towel Cart
From 1910 until 1948, basketball rules barred coaches from speaking to players during timeouts.[i]
The players would huddle near the free throw circle during timeouts and a team manager would supply the team with towels. Some schools used carts to deliver towels and water to their team. Indiana newspapers mention the use of towel carts in the 1940s at Terre Haute, Franklin and Rush County. Another source documents towel carts in Howard and Blackford Counties.[ii]
The Indiana High School Basketball Hall of Fame has in their collection towel carts from Evansville Bosse, Kokomo, and French Lick high schools. Center Grove's unique towel cart took the shape of a wheeled, Trojan Horse.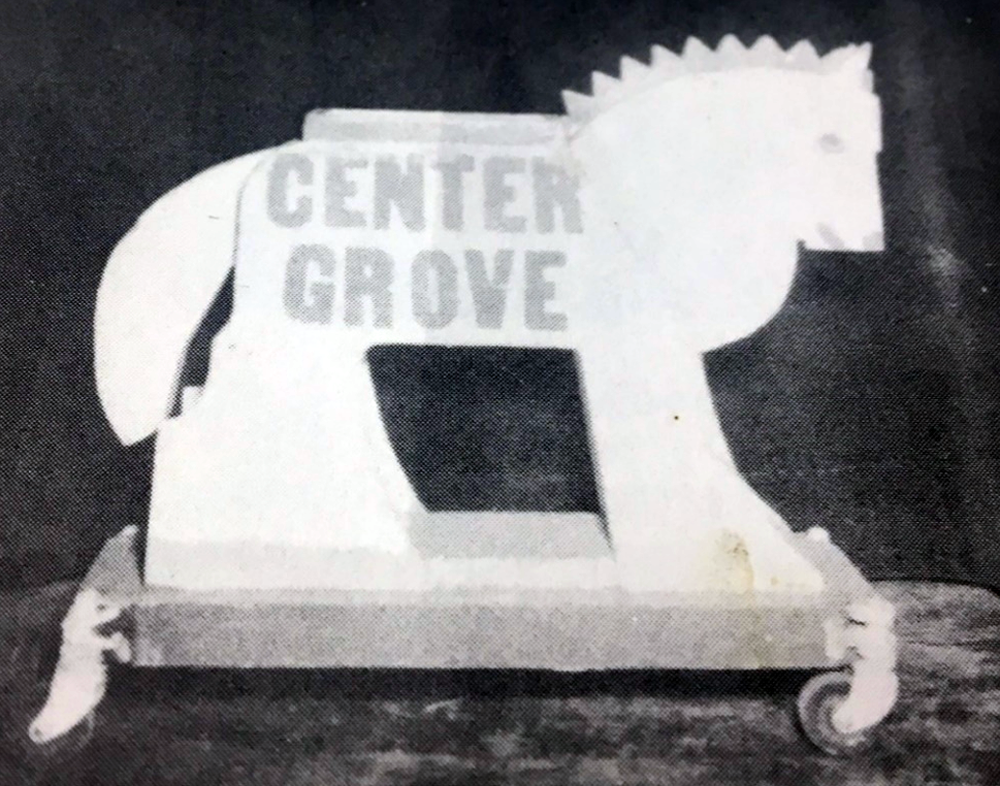 Source: 1949 Maple Leaf [iii] yearbook
Source: 1948 Maple Leaf yearbook
Although no documentation can be found that explains when the cart was constructed, references to the "Trojan Horse towel cart" appear in 1942 and 1947 Franklin and Edinburgh newspapers[iv] and late 1940s Center Grove Maple Leaf yearbooks. The first Trojan Horse mascot is believed to have been made by the school's "shop class" and had a white body and red mane. The words "Center Grove" were painted on both sides.[v]
After the 1948 NCAA and Indiana High School Athletic Association rule change, allowing coaches to talk to players at the team's bench during timeouts, the Trojan Horse towel cart lost its original purpose and may have been retired. Center Grove High School basketball player and 1953 graduate Norm Hyatt recalls that from 1949 to 1953, he saw the Trojan Horse in "…the coach's office in the basement at the dressing room and showers at the east door of the gym. The east door led to the basement."[vi]
Source: 1948 Maple Leaf yearbook
Center Grove High School was destroyed by fire on November 1, 1952. The Trojan Horse towel cart is presumed to have been lost in the fire, along with the school's gymnasium and athletic equipment. A local fireman, Dale Heiney, was injured trying to unsuccessfully save athletic equipment stored in a gymnasium locker.[vii]
1960s Era "Spirit Symbol / Mascot" Trojan Horse
In 1966, Center Grove High School student Pressley Kegley (C.G.H.S. Class of 1968) designed and built a mascot Trojan Horse, after consulting with fellow student Vincent Akers (C.G.H.S. Class of 1968). Kegley installed a baseball hat and red lights on the mascot. School officials asked him to remove the hat and the lights, due to safety concerns.[viii]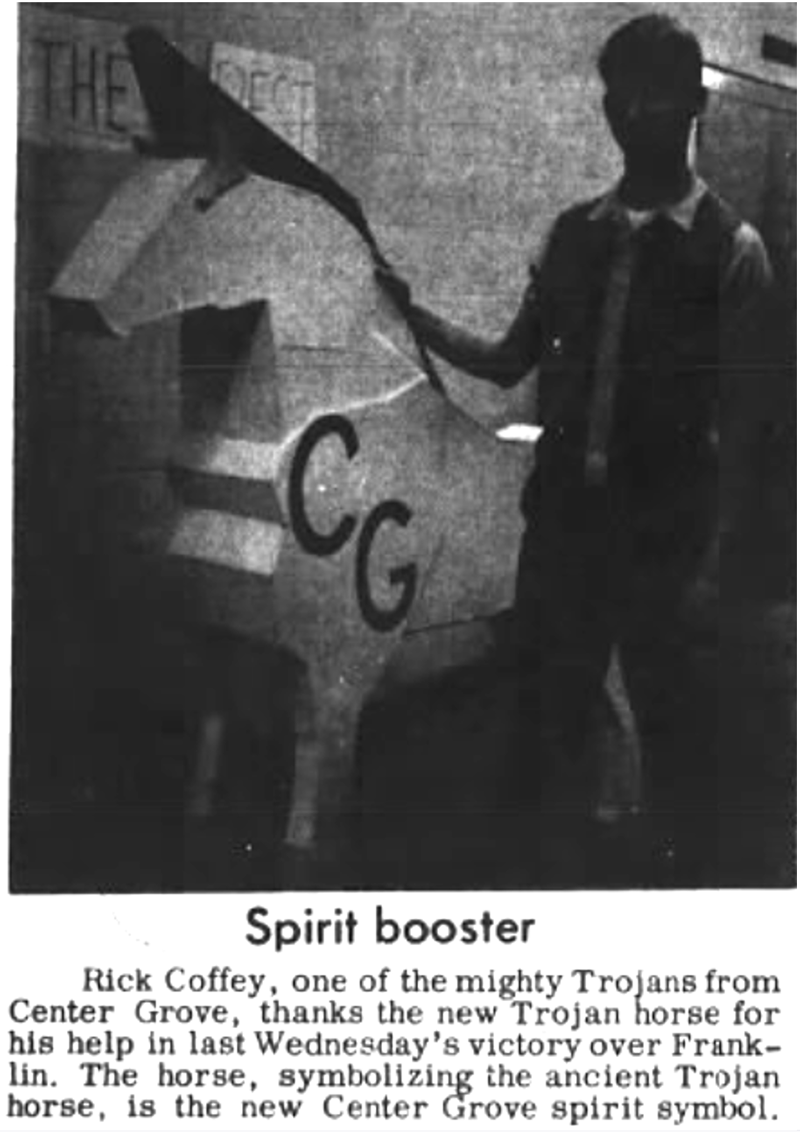 Source: Daily Journal – November 30, 1966, p.2
Pressley Kegley built the horse on his parent's back porch, using pine 2x2s for the frame. Since plywood was expensive, he used Masonite for the exterior of the horse. He recalls using two 4x8 sheets of Masonite. The horse's wheels functioned well for a time but later those wheels broke. Thereafter, the Trojan Horse was lifted onto the gymnasium floor.[ix]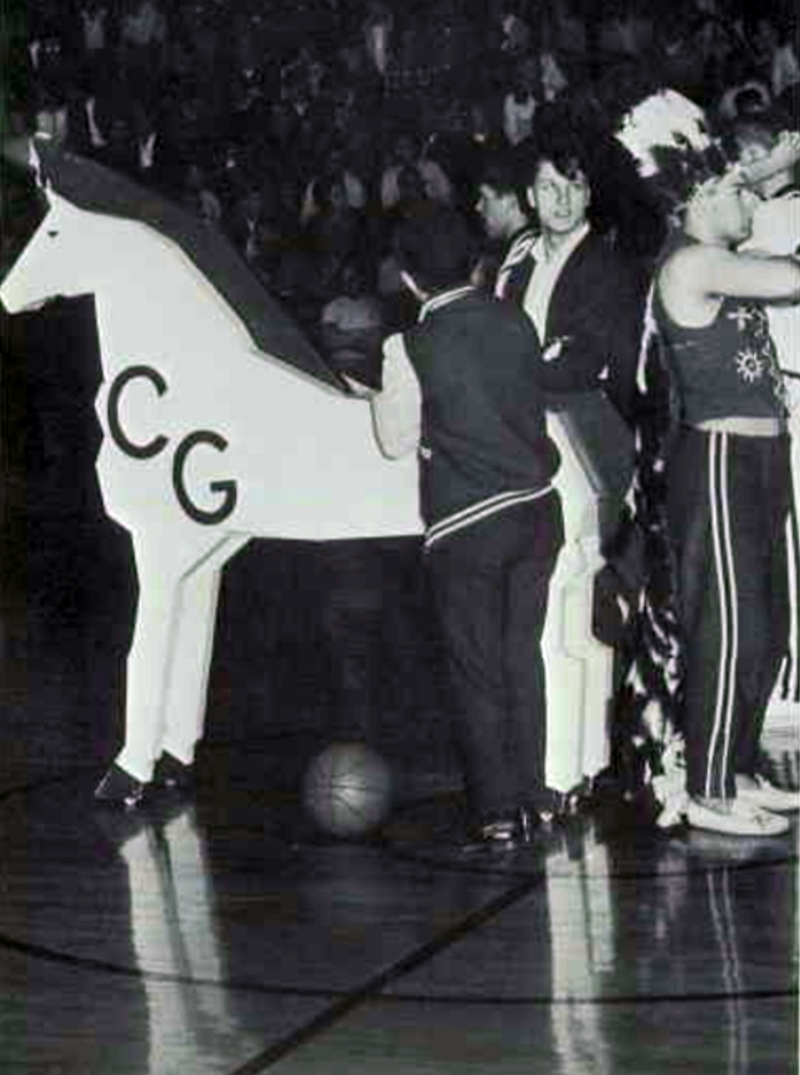 Source: 1967 Trojan yearbook, p. 65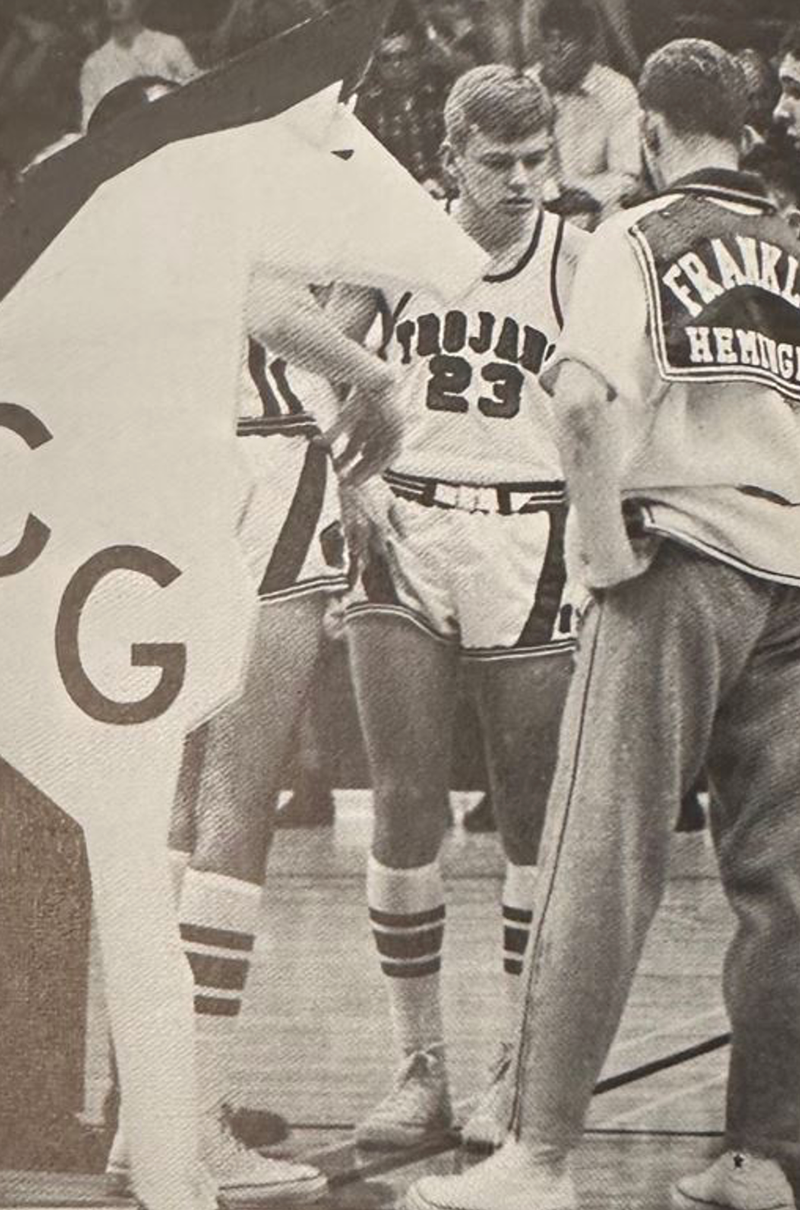 Source: 1968 Trojan yearbook, p. 58
(C.G.H.S basketball player #23 - Greg Hardin)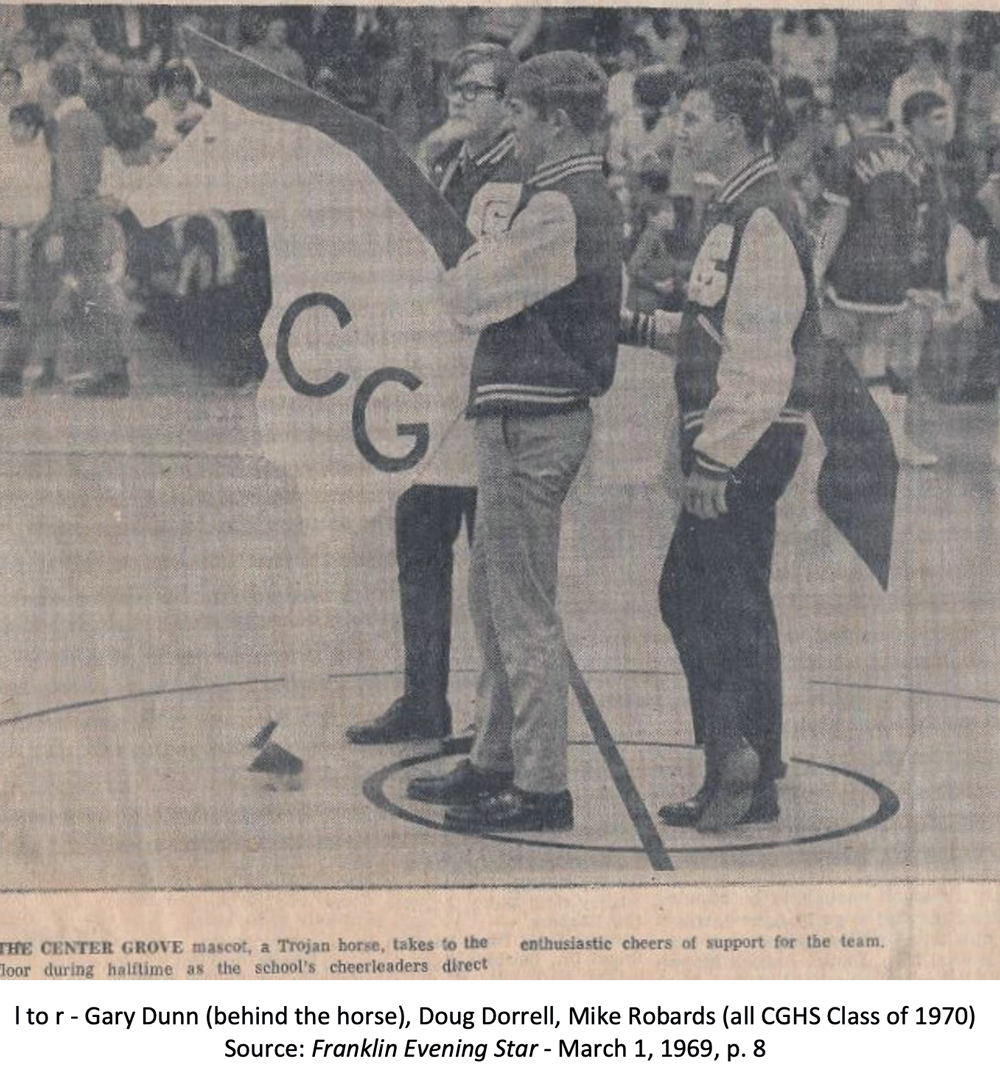 Replica of 1940s Era Towel Cart
In early 2023, a project to recreate the 1940s Towel Cart was initiated by Jeff Beck (CGHS Class of 1967). Under Jeff's leadership, a team of C.G.H.S. alumni and friends authentically recreated the 1940's towel cart. The horse construction project was started by Bill Paddack (CGHS Class of 1955) and historic photos were consulted to recreate the towel cart. Using poplar wood, the construction was completed by Ruel West (CGHS Class of 1958) and Mike Robards (CGHS Class of 1970). Jeff Beck and Sharon Beck painted the horse. Center Grove High School art and technology teacher Ryan Jones, along with students Nolan Canfield and Oleg Zook, created the horse's graphics. Mr. Jones' students also created the towel cart's interpretive website and QR code.[x]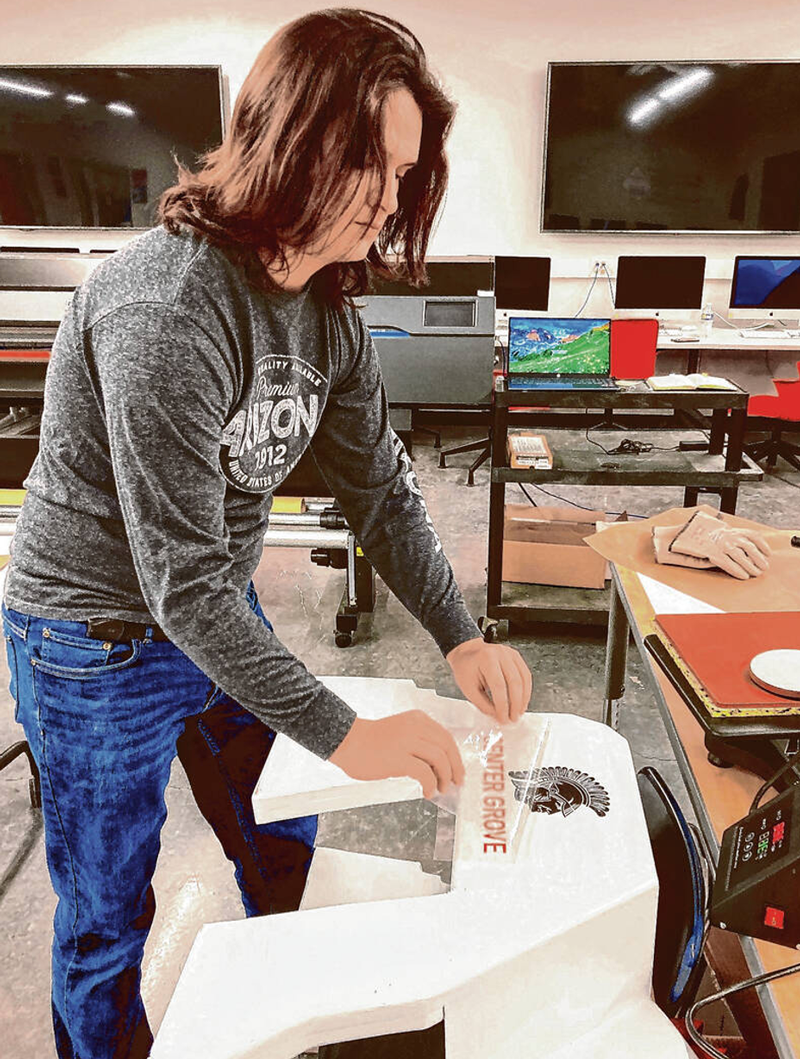 Center Grove High School student Nolan Canfield works on the lettering and logo for the recreation of the Trojan Horse mascot and cart made by Center Grove alumni.[xii]
---
Citations
[i] In the 1910-11 college season, a rule mandated that no coaching was allowed "during the progress of the game." - https://archive.triblive.com/news/coaches-learn-to-pace-themselves/
See also - http://fs.ncaa.org/Docs/stats/m_basketball_RB/2010/Rules.pdf , p.3.
[ii] March 21, 2003 email from Cliff Johnson, editor of Boxscore, the newsletter of the Indiana High School Basketball Historical Society.
[iii] Center Grove High School yearbooks were titled Maple Leaf from the 1920s until at least 1949. By 1952, the yearbooks were titled Trojan and later, sometimes The Trojan.
[iv] Franklin Evening Star: 28 February, 1942, p. 2.
Edinburgh Daily Courier: 7 February, 1947, p. 1
Franklin Evening Star: 28 February, 1947, p. 4.
[v] February 22, 2023 email and March 21, 2019 narrative, both written by Jeff Beck.
[vi] February 6, 2023 email from Norm Hyatt (CHGH Class of 1953) to Jeff Beck.
[vii] Franklin Evening Star: November 1, 1952, p.1.
[viii] February 22, 2023 email and March 21, 2019 narrative, both written by Jeff Beck.
[ix] Summary of a March 19, 2023 email written by Richard Fulmer (CHGH Class of 1968), who conducted a telephone interview with Pressley Kegley.
[x] Daily Journal: 15 May, 2023, pp 1-2. (https://dailyjournal.net/2023/05/14/center-grove-alumni-revive-trojan-horse-mascot/)
[xi] Daily Journal: 15 May, 2023, pp 1-2. (https://dailyjournal.net/2023/05/14/center-grove-alumni-revive-trojan-horse-mascot/)
[xii] Daily Journal: 15 May, 2023, pp 1-2. (https://dailyjournal.net/2023/05/14/center-grove-alumni-revive-trojan-horse-mascot/)